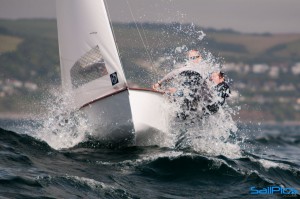 2019 UK National Champions, Irish National Champions, UK Inland Champions
2018 World Champions, UK Inland Champions
2016 World Champions, UK National Champions, UK Inland Champions
2015 UK National Champions, Irish National Champions, UK Inland Champions
In the last 10 years ex World Champion Crew Andy Davis has made more Championship winning GP14 sails than any other sailmaker. Working closely over the Winter with renowned Multiple National and World Champion Mike Senior HD Sails have further refined their designs and added a few tried and tested innovations.
Mainsail
Our mainsails are cross cut made with a choice of Technora ZZ04, 3.8 oz Dacron. The battens are manufactured to HD's custom epoxy requirements. Each sail includes black numbers, a high load Allen cunningham block, sail bag and tell tales. A spreader window can be added upon request.
Price:
Technora ZZo4 – £830.00 inc VAT
3.8 oz Dacron – £699.00 inc VAT
Measurement £9 inc VAT
Genoa
The genoa is cross cut made from 4.46 oz Dacron. Included with each genoa is HD's unique window, luff wire, tell tales and sail bag. Options include: Swivel luff wire for a stuff luff arrangement, £30.00
Price:
£362.00 inc VAT
Measurement £9 inc VAT
Spinnaker
Cross cut made from 0.75oz contender nylon. Each seam is glued and sewn and has a sail bag included.
Price:
£393.00 inc VAT
Measurement £9 inc VAT
GP14 full set offer
GP14 Cruising/Training sails
Mainsail with 1 set of reefs £540.00 inc VAT
Genoa £295.00 inc VAT
Jib £270.00 inc VAT
Spinnaker £355.00 inc VAT
Contact Andy to discuss your requirements